Purveyors of exceptional curiosities and collectibles from around the world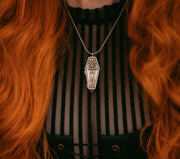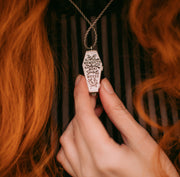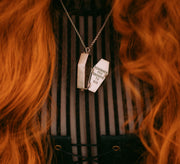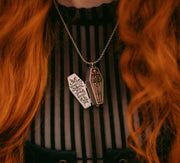 Victorian Mourning Locket
Product Info
Strange and Unusual Trading is proud to announce one of three signature pieces in our Memento Mori Meres line of Victorian mourning jewelry: the Victorian Mourning Locket.

Created to pay homage to the lockets Victorians used to wear to remember their loved ones, this carefully designed pendant is also secretly a locket, so that you can always keep a piece of your beloved with you, even after they're gone. It comes inscribed with the phrase "Memento Mori Meres," or "Remember You Deserve To Die", a reminder of the promise of our eternal rest after we become weary of this world.

Pendant is hand-cast white brass and comes with a white brass chain. A sterling silver option is offered for those with skin allergies. Photo by aclotheshorse

About the designer: Memento Mori Meres was created during a period when I was struggling with mental health and depression. It was born from a desire to come to terms with the ways in which living life in modern society can not only leave one with a crushing feeling guilt, but also a constant sense of responsibility and hopelessness for circumstances beyond your control. In those darkest thoughts, death can feel like a just punishment for our role in the act of living.
Nature is healing, as the saying goes, and becoming more involved with the natural world helped me refocus on my connection with the Earth, both in this life and after. In seeing this, death became a way to join nature and give back to her--a way to be welcomed home and find peace.
That feeling of struggle and hope is what I wanted to capture with this modern day take on Victorian mourning jewelry. There are times to mourn. But there are also times to feel belonging, and at rest.
If you are struggling with mental health or thoughts of suicide, please know there is help. Visit https://findahelpline.com/ for information on how to reach out to someone where you live.