Purveyors of exceptional curiosities and collectibles from around the world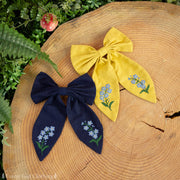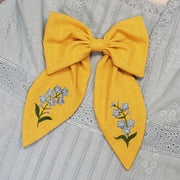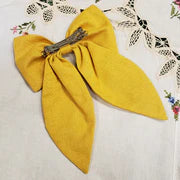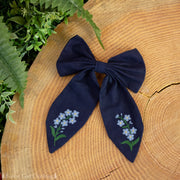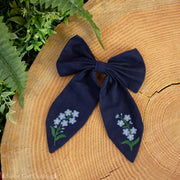 Forget-Me-Not Hair Bow
Product Info
Forget me not, I say to thee
As you wander amid the trees
Of ancient pine, or larch, or birch
Or distant skies, or endless earth
I've scattered seeds along your path
Remember me, as you pass
Delicate embroidery adorns this lovely hairbow in yellow or blue. A romantic addition to your selection, and simply a must-have. Dare we say, but it's so charming, it may even become your favorite.
Materials: linen, embroidery floss, barrette clip.
Size: Approximately 6" wide and 9" long
Photos copyright Forest Girl Clothing USA.

Strange and Unusual Trading Company ships and sells outside of the European Union.
Therefore, VAT IS NOT INCLUDED IN THE PRICE OF THE PRODUCT.